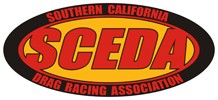 Super Comp
Entry Fee: $100 per race per day, plus track tech card fee.  SCEDA can not accept credit/debit cards.
Cars: Dragsters, Altereds, Roadsters, Funny Cars, and Pro-Stock Style Cars
Format: .400 Pro Tree Racing to 8.90 Index
Staging:
Courtesy Staging is Optional.  100% Starter Discretion.  .400 Pro Tree
Racing Format:
Class will be laddered for first round based on closest to index in all qualifying runs.  All racing will be on a sportsman ladder (SCEDA and Track Officials reserve the right to forgo the ladder).
Payout:
Payouts will be based on car count.  The more people you bring out to race, the more money you can win!
Payout will be prorated if less than 16 cars.  W9 required for ALL payouts.
Class Rules:
All NHRA Super Comp Rules Apply!
All NHRA and Track Rules Apply
Please See General Rules for more information.