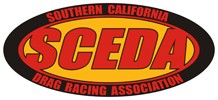 Meziere Electronics
Entry Fee: $50 per race per day, plus daily track tech card fee.  SCEDA can not accept credit/debit cards.
Cars: Open to Dragsters, Roadsters, Alterds, Door Cars, etc.
ET Limits: 7.00 – 11.99
Staging:
Courtesy Staging is Optional 100% Starter Discretion
3 amber 5 tenths full tree
Crosstalk is available. Must have "N" after dial-in if you want Crosstalk disabled There should be a – on the score board in front of your dial.  It is your responsibility to ensure then N is in effect, just like your dial-in is correct.
I.E. 10.53 Dial, no crosstalk. On car: 10.53N. On Score Board: -10.53.
Racing Format:
Class will always be random paired for first round.  For random pairing, every effort will be made to put cars in 3 lanes equally and then pairs will be determined off of a card draw in the middle of staging.  Field will then be put on a ladder for the round of 16 or less cars utilizing a sportsman ladder (SCEDA and Track Officials reserve the right to forgo the ladder).  Ladder will be set by reaction time from the previous round.  Potential bye for un-laddered rounds will go off best reaction time in the previous round.  First round potential bye goes to the best reaction time in the last time trial session.
Payout:
Payouts will be based on car count.  The more people you bring out to race, the more money you can win!!!!!!!!
Payout will be prorated if less than 16 cars. W9 required for ALL payouts.
Class Rules:

Computer: Prohibited unless stock OEM equipment. See NHRA General Regulations 9:1.
Data Recorders: Permitted. See NHRA General Regulations 9:2 & 9:10.
Delay Boxes: Permitted. One box/device only attached to transbrake and/or throttle timer only. Delay box may only display delay amount. All direct wiring must be clearly identifiable to the tech inspector.
Transbrake: Permitted
Line Lock: Two or four-wheel line lock permitted
Automated Shifter: Permitted
Throttle Control: Permitted per NHRA rulebook
Ignition: Stutter boxes prohibited. Starting line and/or "high side" rev limiters permitted. Three-steps, two-steps, rev-limiters, or any other rpm limiting devices, legal unto themselves but altered or installed so as to function as a down-track rpm controller, prohibited.
Switches & Buttons: All switches and/or buttons must be standard mechanical connection type.  Infrared lasers, retinal scan, fingerprint, light source or any other non-mechanical type switch and/or button prohibited.
Tow vehicles: Permitted.
Any vehicle running 7.49 and quicker must conform to Advanced ET rules, per section 4B of 2017 NHRA Rulebook.
All cars 9.99 and quicker or 135 MPH and faster are required to have an NHRA approved lower engine containment device attached to vehicle.
All NHRA and Track Rules Apply
Please See General Rules for more information.