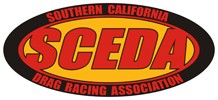 No-Electronics
Entry Fee: $50 per race per day, plus track tech card fee.  SCEDA can not accept credit/debit cards.
Cars: Open to Dragsters, Roadsters, Altereds, Door Cars, Motorcycles, Snowmobiles, Junior Comp, etc.
ET Limits: 7.50 – 13.99
Staging/Tree:
Courtesy Staging is Optional, 100% Starter Discretion.
Split Tree Available. 3 amber 5 tenths full tree (default for class) OR 4 tenths pro tree (Motorcycles ONLY)
For 4 tenths pro tree option: Must have "P" after dial-in if you want a .400 pro tree.  There would be a – on the score board in front of your dial.  It is your responsibility to ensure you have the proper tree, just like your dial-in is correct.
I.E. 12.27 Dial, .400 Pro Tree. On Car: 12.27P. On Score Board: -12.27.
Racing Format:
Class will always be random paired for first round.  For random pairing, every effort will be made to put cars in 3 lanes equally and then pairs will be determined off of a card draw in the middle of staging.  Field will then be put on a ladder for the round of 16 or less cars utilizing a sportsman ladder (SCEDA and Track Officials reserve the right to forgo the ladder).  Ladder will be set by reaction time from the previous round.  Potential bye for un-laddered rounds will go off best reaction time in the previous round.  First round potential bye goes to the best reaction time in the last time trial session.
Payout:
Payouts will be based on car count.  The more people you bring out to race, the more money you can win!!!!!!!!
Payout will be prorated if less than 16 cars.  W9 required for ALL payouts.
Class Rules:
Same as Electronics with the following exceptions:
Data Recorders: Prohibited. See NHRA general regulations 9:2 & 9:10.
Delay Boxes: Prohibited.
Automatic Shifter: Permitted, single function controller only.
Throttle Control: Throttle must be manually operated by the driver's foot.  Electronics, pneumatics, hydraulics, or any other device may in no way affect the throttle operation. A deadstop under the carburetor or gas pedal is permitted. Throttle timers, counters prohibited. No over-ride or throttle stop devices allowed.
Ignition: Three step limiters prohibited.
Tow Vehicles: Permitted. No full-size vehicles allowed (Quad, ATV, Golf Cart OK).
Nitrous Oxide: Prohibited
Any vehicles running 11.49 and quicker must be legal per section 4A of 2014 NHRA Rulebook.
All NHRA and Track Rules Apply
Please See General Rules for more information.